It was an ad challenge this week. I have to admit, I was really stumped! But I brought out my sketch book, actually drew a few sketches and same up with what I think is now my new favorite layout!!!
First, I have to share the ad and my sketches...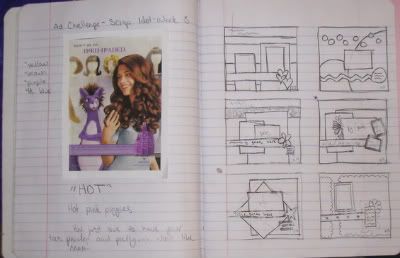 And here is my LO...
I printed the large pic on textured cardstock. I wanted it to have the look of canvas and hand drawn. I highlighed different areas by coloring over the pic in pencil and also colored in our toes. I would have like to have been able to just edit it in photoshop, but I don't have that on my computer so this was the next best thing.
Here is a close up of the title and you can also see part of the big pic in a little more detail.
TFL!!!
Love,
Kelsy