Its time for Friday Favorites!!!
My two favorite colors right now are: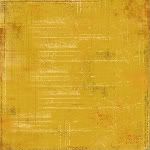 Mustard yellow and an eggplant-y dark purple.
Remember the
YELLOW
shoes
and the
PURPLE
scarf
?
I don't know what it is about those colors, but I can't get enough. A while ago I ordered a mustard yellow scarf (I know... another scarf...) from
StellaCrafts
on Etsy (it was $10 with a free hat) and it came yesterday. I'm in love.
*swoon*
They match my yellow shoes perfectly but I'm not a matchy-matchy person. I like to "coordinate" there is a difference!
And of course my Goose. How could I forget. She was with my mom and the Gruesome Twosome (Emmy-monster and Harley-beast) yesterday and the girls played dress up and had makeovers. Gooses' finger and toe nails are purple and you can still see some of the purple eyeshadow on her eyes. I hate to think of how bad it must have looked
BEFORE
my mom wiped most of it off!
Just thought this picture was fitting for my Friday Favs though, since I'm wearing my *new* yellow hat and scarf and she is decked from head to toe
(literally!)
in purple!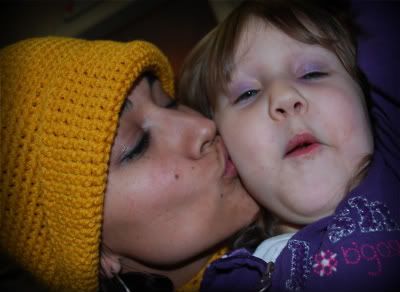 She loves my kisses, really! Her mouth was full of peas.
What can I say, my kid loves her veggies!
Well, thats all for now.
Oh! Actually I forgot... I am going to be updating my
Etsy store
tonight, so check it out later this weekend for some brand new pretties!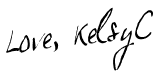 PS - Did you catch The Office last night! My favorite thing was that Pam was still making Michael sit in the back seat (any Dunderhead will surely remember the incident from the Diwalii episode in Season 3), brilliant! And I love that Pam was able to make her peace with Karen, I always kinda liked her and thought they would be good friends if not for Jim.... anyway, thats all for my Office comentary 'till next week!