With beer and scrapbooking!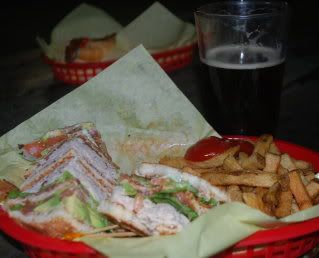 Hubs and I went out to dinner last night. At a bar. I had a delicious club sandwich and a pint of my FAVORITE beer (
Rouge Hazelnut Brown
). It's a somewhat local brew, from the
Rouge Brewery
in Oregon. It's dark and nutty and has yummy coffee undertones without being bitter or too nutty like some dark beers are.
It felt
SO WEIRD
and
WRONG
to be out. On a weeknight. Without my baby. No Goose to read bedtime stories to or blow me endless kisses. No little arms wrapped so tightly around my neck I can hardly breathe. No body quaking giggles, no silly grins...
But we did see friends that we haven't been able to hang with for a while (ya know, the childless ones), shot a few games of pool and when we got home,
late
, I scrapbooked afterwards, so it's not like I'm drowning in tears here. It's just that my partner in crime is missing.
Anyway, here is the LO I got done. It's my DT LO for my LSS. It was an ad challenge, a pretty tough on for me, it was very square and not really my style, but I'm actually pretty satisfied with the LO I came up with.
Title is kinda hard to read, it says
"Always the family photog"
and the journaling relates to how I'm always behind the lense and how sometimes its fun to turn the camera on myself.
All the cute little owlies are from my friend,
Lacey
. And don't you just love these funky papers from
Bo Bunny
?
TFL!!!