Never volunteer to make 60 baby shower invites. EVER AGAIN!
One of my friends is due at the end of July and I am throwing her baby shower next month. I decided (regrettably) to make the invitations instead of buy them. What a pain in my ass!! They turned out great. Except that I had the wrong time (it was the one I had told her, but I guess she couldn't get the space at that time and forgot to tell me it was changed.)
So, I had them finished and she came to pick them up on Sunday and discovered the time was wrong. So I had to redo the inside... 60 of them. Yes, I made 60 of these fuckers. I cried right in front of her. It was terrible. I was so relieved that they were done and come to find out they were wrong. I tried SO HARD not to cry in front of her, but I couldn't help it. Steve felt so bad that he helped me fix them!
That said though, they turned out pretty cute! If I didn't have to make 60 of them, I would have probably inked the crap out of them, and distressed them (you know me! ;) ) but I just didnt have the time. I also used a sizzix die for the buttons!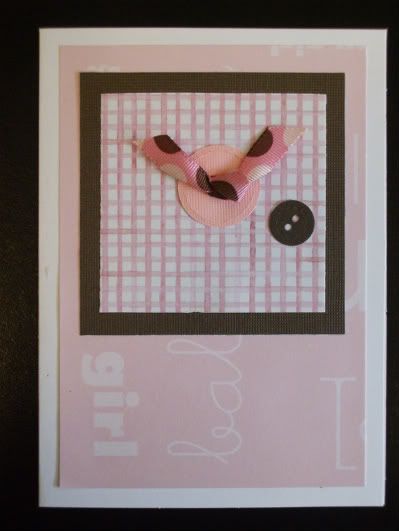 TFL!