I know a lot of blogs do this and since I have been so chatty lately, and you all care about what I have to say so much, I thought I would share my few favs with you!!!
1) Maybelline Define-A-Lash Mascara in Very Black
BEST. MASCARA. EVER
2) Jiff Penutbutter with Honey
YUMMY! And it doesn't taste funky at all (the way sometimes mixed peanut butters tend too) So smooth and creamy and sweet and tasted AMAZING on my toasted bagel this morning!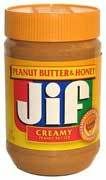 3) The Sweet Stack
I bought this a few weeks ago and can't wait to use it. I'm gonna print Harley's b-day pics and use those I think. This paper is TOO CUTE!
4) Funky socks - YES they really are as ugly as they look but I love them. I just love funky ugly socks in general. I stalk the Target sock isle during the sales and stock up.