the bigger post to come. I promised it so long ago, maybe some of you have forgotten? Well, here it is, the story of my birthday festivities.
It started on Saturday (sort of) with the tradition of getting our Christmas tree on the weekend closest to my b-day. Hubs was a hero and cut our tree down like the big man that he is. This year, the lot had one price for all u-cut tree so the tree we got is pretty ginormous. That's okay, I love big, fat jolly trees. Fat and happy like Santa Clause. (read this post by
cjane
, she has the same love of fat trees as I do!)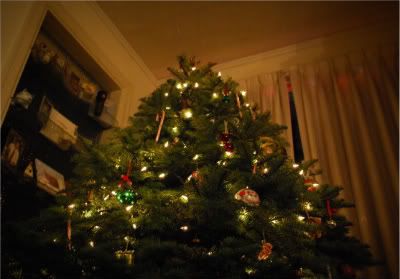 Then came Sunday. I went out with my dad and got a new cell phone. I know, 25 and my dad still pays for my cell phone. But, ya know, I'm okay with that. Because, not only could I not afford it on my own, but I am kinda anti cell phone anyway. I got a AT&T Quickfire and it is the coolest phone I have ever owned. I have only had cheap free phones before. But this phone is touch screen and has a flip out QWERTY keyboard and its the coolest shade of green ever. And my dad upgraded our plan to unlimited texting so I have been texting alot these days.
After cell phone shopping, my dad (from here on known as Goo Goo) took, Hubs, Goose and I to this awesome restaurant called Sushi Go Round. It is one of those sushi places with a conveyor belt and the food goes by and you just pick up what looks good. All the plates are color coded for price. The food was AMAZING. I haven't had good sushi in ages. Goose did all right too. She likes shrimp and we were able to convince her that edemame were really peas (which she LOVES).
Hubs brought my presents to the restaurant but it wasn't exactly the most family or present friendly atmosphere. If we ever go back, it will be sans Goose. After dinner we went home, and I was able to convince (whine, beg, plead) with Hubs to let me open them. There were three presents... he gave me the option of waiting, but I'm not usually one to let opportunity pass me by so of course I opened them!
Present #1, a toaster. Kinda inside joke, our toaster sucks terribly and we desperately needed a new one (that's okay, Hubs is getting a desk chair for his b-day b/c we need one of those too).
Present #2, Hubs warned me, was a combined birthday AND Christmas present. The curse of the December baby. LOL. I peeled back the wrapping paper and tears literally welled up in my eyes... it was my camera. My Nikon D60. I even asked Hubs if it was real and he, being the smart ass he is responded "well, I wouldn't just give you a box! I didn't expect it, we couldn't afford it, I don't know how he did it. Present #3 was a memory card for said camera.
And to think... all I
really
wanted for my birthday was a Hamburger Cake.
So them comes Monday, my official birthday, half a century. Day goes as usual except for my perma grin about the camera (which still has not gone away, the pics it takes are AMAZING!) and when I get home, Hubs calls my (super cool brand new) cell phone and instructs me to wait outside (in the blistering cold mind you, okay, it wasn't that cold). This is what I see...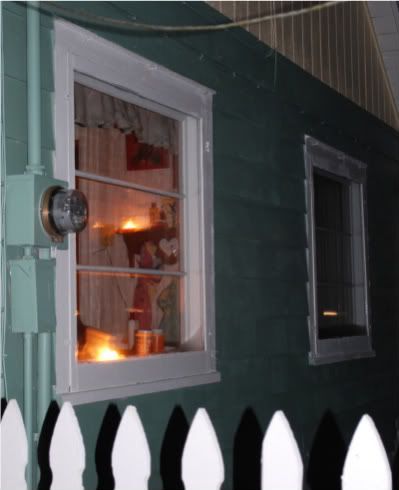 And when I finally get to come in... this...
The room was dark, candles were lit everywhere, both Hubs and Goose were dressed up nice. He had picked up Olive Garden for dinner (yummy, my favorite)and Goose started eating without me.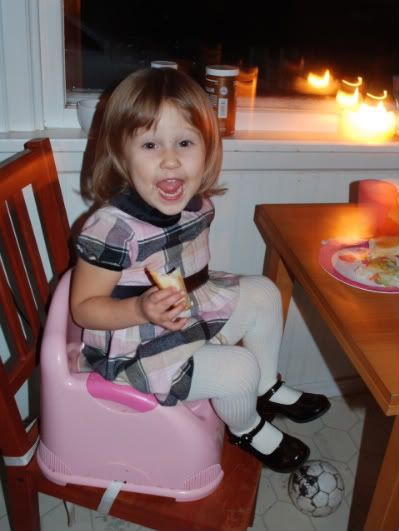 Hubs gave me some more birthday cards, and reading them, the whole night, just really overwhelmed me and I started bawling.
"I feel so... loved." was all I could think of to say. Hubs does all right, but isn't usually one to go all out for the romantic mushy stuff. He got everything right this year. I think it was the best birthday yet!
I have to admit though, I was a little disappointed when I didn't get my hamburger cake. Basically, its a cake that looks like a hamburger. The "buns" are made of white cake and the "meat" is chocolate, then its frosted w/ "the fixin's". I've wanted one since I was a kid, and expected it to be over frosted and nasty, but I wanted one anyway!
Hubs went out for a "smoke" and when he came back in...
My cake! I couldn't wait to eat it, so Hubs started slicing...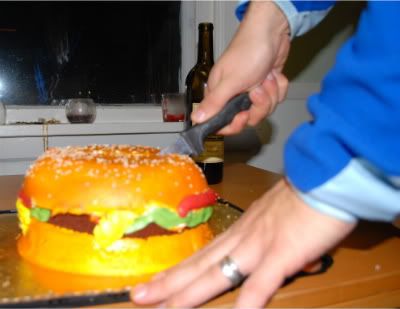 And Goose had some "fries" (sliced sticks of white cake) with ketchup and mustard (frosting).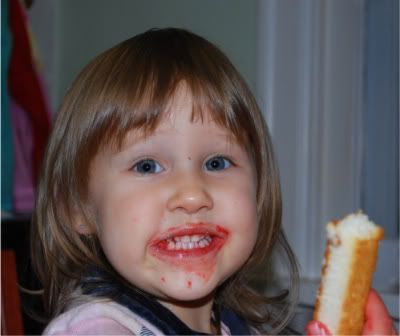 And while I was
trying
to eat my cake, DH kept taking pictures and saying things with a really obscene tone.
"Oh yeah, bite into that meaty burger"
"You know you love the meat"
"Yeah, that's right, eat it like that"
And I couldn't help but laugh... what a dork!
Then on to Tuesday, dinner with my mom. She made shrimp fettuccine and her FAMOUS chocolate fudge cake. From her I got two movies (Enchanted and Dark Knight) and a really cool pictorial book of Marilyn Monroe. I've been collecting Marilyn stuff since I was in my teens.
They are all trying to give the thumbs up sign but Emmy is more concerned with what Goose is doing with her fingers (look closely!)
So that about sums up all of my birthday festivities and I have to say I am looking forward to the upcoming year. 24 wasn't so great, but I just have a feeling about 25... this year is my year! I just know it!