Meet Henry,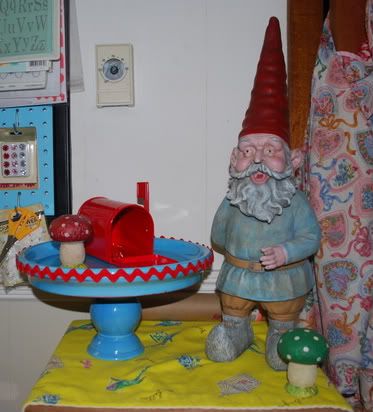 He was my first Gnome. A gift from a co=worker for last years Christmas gift exchange. We had to write down 3 things, to give our Secret Santa some ideas and I just wrote down some random stuff. I never in a million years thought A) she would be able to find a gnome in winter and B) that the gnome was actually the giFt she purchased. Not that I'm complaining.
I love gnomes, I don't really know why, but there is an unexplained soft spot in my heart for them. Maybe it's from that episode of King of the Hill (Gnomenclature...
oh Bobby Hill
) or maybe its just carrying over from my other current obsession of all things woodland.  Maybe it's both, maybe its neither... I can never really be sure.
Speaking of woodland, remember those cute little terrriums I talked about in
this post
? Well, I finally got around to making a couple at naptime today. I froze my butt off while I was outside building them, but at least it wasn't raining.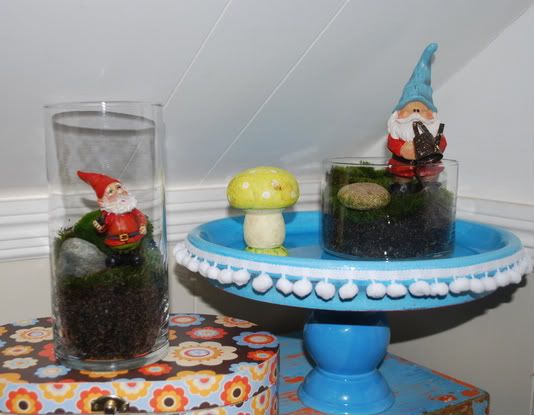 Here is Conrad,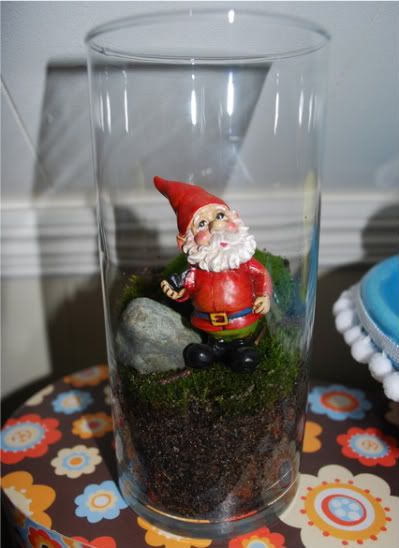 And this is Norman,
I think I remember reading that they need to be covered, but I can't really confirm that. And I'm not much of a green thumb.
In fact
, I think my thumbs just may be the
grim reaper
to plants, so we shall see how these fare. I'm keeping my fingers crossed, but I'll have to keep you posted on the outcome.
And projects... maybe I should have called this post "
Gnomes... and Projects
" instead. No, I think I'm okay. The terrariums were projects, right?
Did you happen to notice the dessert trays in the previous pictures? Well...
I made them
. 
A while back I bought these two blue candle holders from the dollar store with
this
project from
Once Wed
in mind. So anyway, I was trying to take the easy way out and just match the blue candle holder to a plate... not as easy as I thought though. Apparently, this particular blue is a difficult shade to match
So after looking 4 EVR with no luck I finally found the plates... in the gardening department of Tuesday Morning (a retail discount store kinda like BIg Lots) of all places.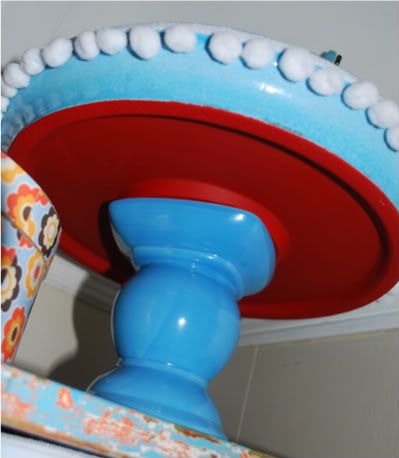 They were glazed terra cotta planter bottoms and the matched perfectly and for only $3 bucks a piece, they were exactly what I was looking for. I painted the bottoms red and then added some cute trims to finish them off. I plan on using them for Goose's birthday (in less than a month *tears*) so, I will probably trow some paper doilies on top and call it a day. To attach the trim to the plate I used Fabri-Tac (love it!) and to attach the plate to the candle holder I used E600 (also love it!).
I also worked on this nifty little package of pretty blog candy for my friend
Julia:
Wanna find out how to win it? Click on the button below to find out ALL about it!