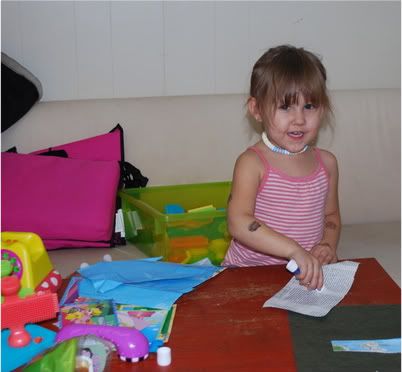 Mommy's little Scrapper-in-Training (she's potty training too, but I think we are closer to becoming an expert scrapper than to using the big girl potty)
Now that my scraproom is clean, I can atually have Goose up there with me. Obviously it was too messy, not to mention completely unsafe for any human to inhabit before. But now that its clean, thats not so much a problem anymore. The coffee table is tucked away normally, but I can easily pull it out for Goose to use.
First we tried coloring (I have a stash of color crayons and books up there) but she wasn't that into it. So we brought her blocks up but she
REALLY
wanted to scrap like Mommy. I let her loose with some scrap paper and a glue stick, which she promply broke. Then I gave her another one, and she broke that one too. Good thing those suckers are cheap! LOL!
But,
thanks to the TV
, Goose was entertained long enough for me to get some inchies done for a swap. I was stumped at what to do at first but they turned out cute. They are so little (just an inch) and I can't wait to use them on pages!
Girl Inchies(from the new DCWV Green Stack)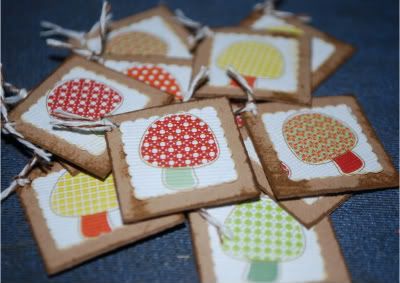 Boy inchies (from the new DCWV Green Stack)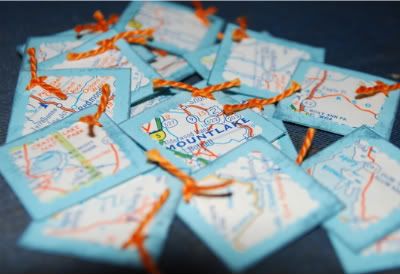 Anything Goes inchies, these are made from a vintage map of my home/neighboring state.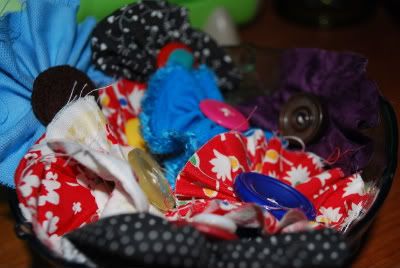 These brooches I didn't make yesterday, just recently...
But they should be in the
store
shortly! Just thought I would share them with you all since I am doing a crafty post.
TFL!