and probably no more to go. I haven't decided yet weather or not I want to scrap after Goose goes to bed. I think I may just go to bed. Goose is still getting up before the sun rises so I have been so tired and irritated lately. Mamma needs her sleep. I remember when I was young and would party all night and sleep all day... I kinda miss it. 'Cuz now when I party all night I still have to get up at 6 am, hungover, not pretty, unfortunately the TV isn't that good of a babysitter.
And it's not like I party all night all the time. Having a kid doesn't really allow for that. But my BFF recently had a baby and stopped breast feeding so we had a girl's night and went to the bar. It was fun, but we both decided that it was better at 21 when we both had great bodies and could make it to last call. I think we were home by 11... It was a nice change of pace, but after discussing it, I think we are going to try and have a craft/wine night at my house least once a month.
Anyway, I got a little scrapping done today and pictures taken of all my new earrings... but they aren't in the shoppe yet. I need to eat dinner before I handle that. LOL So... here are the LO's I got done!
Creative Scrappers sketch... I think...
Another Creative Scrappers sketch... at least... I think... :-P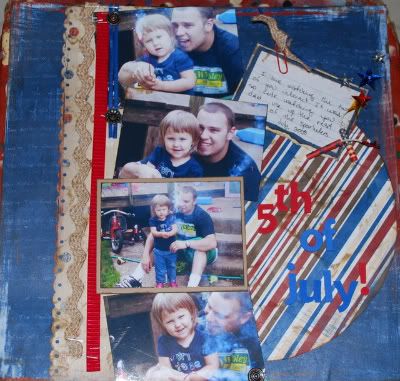 Sorry, too lazy to link everything up for you today... but I think links to everything I mentioned can be found on my sidebar!
TFL!