At least leaving blog comments that is.
Sarah from
Red Oak Lines
thinks so anyway.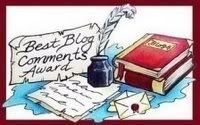 I would like to nominate
Kat
,
Shasta
and
Andrea
for this award, oh, and of course
Carolyn
, how could I forget her, since they are my most loyal commentors. And it always brighten's my day to have people leave comments on here!