My scrappin' board started a new contest
. 5
(or is it 6?)
weeks of LO's to be judged anonymously on a 50 point scale. At the end of the 5
(or is it 6?)
weeks, your lowest score is thrown out and whoever has the highest cumulative score wins. And you know I love a good competition.
We are currently on Week 2, but because of the judging we aren't able to reveal our layouts until they have been voted on. Week 1's challenge was a Simon Says challenge; here are the rules:
Simon Simon Says to use CS as your LO Base
Simon Says to use 3 PPs
Simon Says to use Buttons
Simon Says to use anything to attach your items to the paper
Simon Says to Distress your photos
Use ink to distress it
Simon Says to use 'White Space'
Simon Says to Use 2 Photos
White space? No ink? WTF?! Here is what I came up with...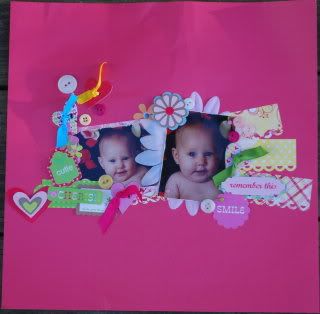 I used stickers mostly to attach everything to the page but I did loose points for adding the flower. I also lost points b/c I loosely interperated the "3PP" rule. I use 3 double-sided PP's, which aparently counts as 6, oh well. I ended up with a total score of 42 so thats not too bad at all!

I'll keep you posted for the next 4 (or is it 5?) weeks and let you know how I do. I am already dying to show off my week 2 LO but you're all gonna have to wait 'till next week!

xoxoxo! TFL!