Went to
Funk Junk
again this weekend, hit up Goodwill too.
Nothing like some good thrift shopping to put a crafty girl in a good mood.
I think my favorite purchase was this cuff bracelet:
I especially like how each end looks like a bullet, now that's hardcore!
This week she had a trunk of jewelry that was all buy one get one. I think I got 10 things for $15. Not too bad.
There were some neat brooches: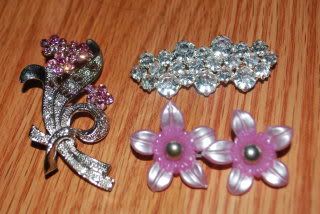 This nautical one especially struck my fancy. It'll be a great addition to another
leather bag
I am painting.
I also love these clip-on earrings, although I think I may be giving them a new life as a pendant or brooch perhaps, maybe both!
(With chunky turquoise and gunmetal findings... I can just see it now!)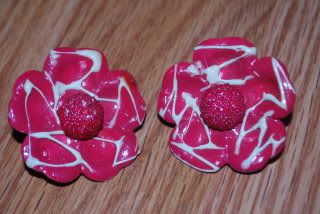 I also scored a straw hat (great for sunning) some other little necklaces and do-dads... and this
rad
shirt:
Being a Washington gal, I was
WAY
into the whole grunge mid-90's flannel Nirvanna era..... and now flannels are coming back into style
(well, if you ask Nicole Ritchie... but I think she is quite fetch!)
and I have long gotten rid of all my cool ones. Time to re-stock at a bargain!
Sure, I could spend $50 on a vintage flannel knockoff at Quicksilver... but WHY would I want to when I can buy a
REAL
vintage flannel for $3 at Goodwill? Answer me that!
I often wonder what it says about me that I would rather wear rad vintaged/thrifted duds than the name-brand shit from Nordstrom?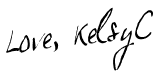 PS - Remind me to post the dress I got at Fun Junk. I need to press it and take it in some in the bust, but it is GORGEOUS and fits perfectly (except for the bust) and I can't wait for the right occaision to wear it!