Boring weekend at the homestead.
Lots of laundry and getting ready for our trip to the Oregon sand dunes next weekend. It'll be the first time Goose and I are going, so I am pretty excited. K, Goose and I are gonna carpool down there. Yay! I see outlet shopping in our future!
Saturday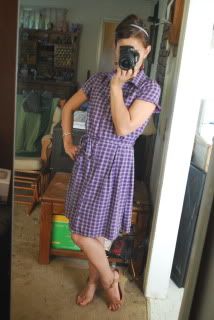 Dress: Walmart $14
Shoes: Target, sale $7
Handmade Accessories
Headband: Dollar Tree

Tops: Old Navy, $5 ea
Skirt Fun Junk $4 - reconstructed

I had to completely redo the skirt. When I bought it, it was looking worse for wear. Seams were ripping and the zipper was destroyed. So, I sewing binding tape around the top/bottom and replaced the sipper
(all by hand)
I love how it turned out. It's my official "Seahawks" skirt. I have a 'Hawks patch somewhere that I plan on adding to it.

Faux wrap-dress: from Bumbershoot, $28
Patterned tights: Target, $8
Shoes: WM $20
Cami: WM $6
Handmade Accessories
Hope everyone had a wonderful weekend!
LUVS!