Today was a LONG day.
I was up at 5 am. For some reason, I couldn't fall asleep in bed. So I put a movie on went on the couch with a blankie and pillow. Asleep in no time. Lovely. I don't even remember what movie I "watched."
I had a busy day of laundry and football. Sorting (ish), washing, then folding on the couch while watching the game. We lost. But lucky for me ::sarcasm:: there were plenty of other football games to be watched.
I had to take a brief break from folding to hem some jeans. Hand-me-downs and a pair I got at VV that were WAY too long. I'm 5'2" so jeans are ALWAYS too long. Well, I found this awesome tutorial from
Cardigan Empire
via
Craft Zine
. I hand sewed mine, but I absolutely LOVE this technique and I may have to pull a few other pairs of pants out of the closet to mend.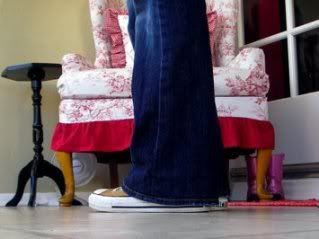 *click the pic above for link!*