The law office I work for is pretty small. Its just my boss and I. So, we don't really have a real dress code. Most days I can just wear jeans or whatever, but I try to dress cute when I know we have clients coming in. And when we have days like today, where we have a deposition scheduled in the office, I like to cute it up even more.
Seriously... I'm a mom, but I still want to look
CUTE
!!!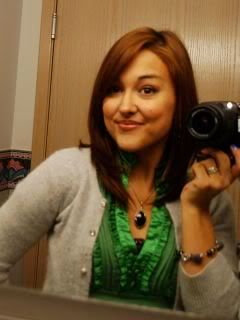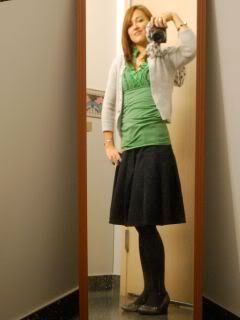 This emerald green shirt is one of my faves! I love the high neck and the color is so rich and awesome. The black skirt and tights were an easy match. The green really POP's against the black... but I need another color. Something that didn't match, so in turn, it would match... if that makes any sense to you?
And then I remembered this grey sweater hiding in the back of my closet. Cropped or just shrunk, I don't know, its still cute, with its ornate crystal buttons. Then I remembered the grey wedges I just got from VV. Throw on some coordinating baubles and good to go!
I don't know what it is about the grey. It's a non-color. But I think, because of that, its easily paired with pretty much any color... like green... or black.
Sweater - Macy's - old, probably bought on sale
Pleated Skirt - Gap via Goodwill $6
Tights - Assets by Target $10, on sale
Shoes - American Eagle via VV $5
Jewelry - Silpada Earrings $too much
Necklace - Made by my MIL
And in
Etsy
news... I re-listed a bunch of stuff in my
shoppe
today and plan on listing some new things I have made recently too. One of the items listed I am actually wearing today, its one of my
favorite creations
!