I worked on this layout last night while watching my Thursday night shows. Did anyone catch The Office? So Ryan is a coke head, huh? Didn't really see that coming but I guess I can't way that it surprises me. And of course a new episode of LOST finally. I don't know what to really say about that one. I really enjoyed it and can't wait for next week's. This season has been a HUGE improvment from last year. Although last year did set the stage for everything that has happened so far, so I guess it was worth it. I mean, I'm still hooked, right?
Anyway, on to the scrapping. I love this picture. It was taken by my first serious boyfriend in high school. His name was Evan and he was really into photography. This picture was displayed in a local business, a Starbucks I think, as part of an art show/contest and he ended up winning a prize for it. I haven't seen Evan in years, but then again, this picture was taken 10 years ago, so its no big surprise. Incidentially, DH "found" this picture the other day when we were doing some spring cleaning and wanted to throw it out. Really, there is no sentimental value, its just a really pretty picture. So, I had to salvage it and thought these papers complimented it well. There was some damage to the picture, staining and stuff from not being properly stored so I thought the grungy, distressed look suited it well.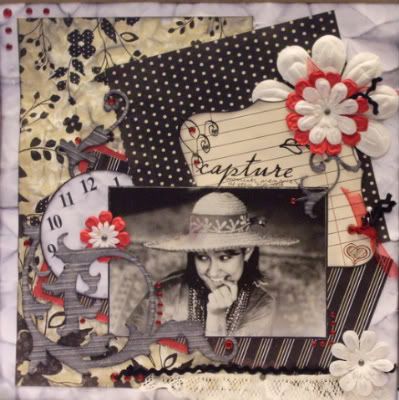 And here are some detailed close-ups.
Products
Paper by
CTMH
, March Kit by
Jen
Clock and Journal Block by
Teresa Collins
Flowers by Prima and CTMH
Distress Ink and Grunge Board by
Tim Holtz