I love unique clothing for Goose but I am unwilling to pay boutique store prices for the stuff I really like. Especially since I can make a lot of it myself. I hate to pay for things I know I can make.
Anyway, this past weekend, while shopping at Walmart, I found this really cute camo hoodie in the little boys section. And I bought it for Goose. But camo is not the most girly thing in the world, so I thought I would embellish it and make it cute and girly!
I already had the skull iron ons in my stash and the ric rac was from
Jan
, I think it was an NSD prize from way back. Anyway, I stitched the ric rac around the hood and onto the pockets and also stitched on buttons. I am still planning on adding a few more little things but I wanted to share it with you all now!
My model wasn't cooperating this morning though, she kept saying "I no want take picture."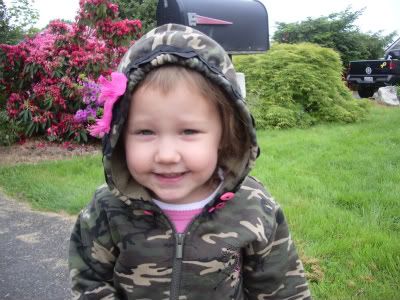 Isn't it amazing what you can do with a $6.99 hoodie and a handful of scrapbooking embellies?