This weeks challenge for SYTYCS was a "By the Numbers" challenge. We had to use the following items and
only
the following items:
1 PP - at least 75% of sheet
2 CS - at least 75% of each sheet
3 flowers
5 metal embellies
6 inches of
visable
ribbon
1 black pen
Um..... really? This was a REALLY hard challenge for me. I love to junk up my pages and add and add and add stuff until the page is really full and really heavy. But I couldn't do it this time. I did my best to make the most of the materials I had and actually came up with a LO that I LOVE. And it also seems that the first SYTYCS challenge is still fresh in my mind b/c I am still really diggin' on the black & white with color.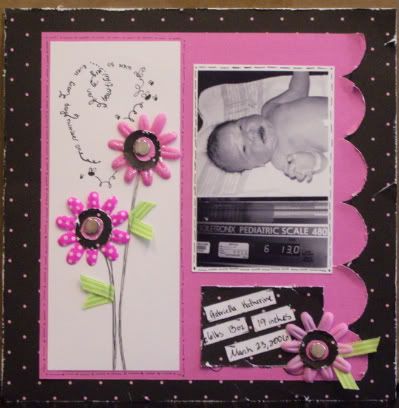 So there it is. Not too shabby, huh? I used
this LO
as a sort of base idea.
I cut a frame in the PP so I could make use of that paper that would have been covered by CS anyway. I then used that PP as my flower centers and as a journaling block. If you look carefully, you can see where I tried to journal on the pink CS but got a little carried away. It looked like crap and so I covered it.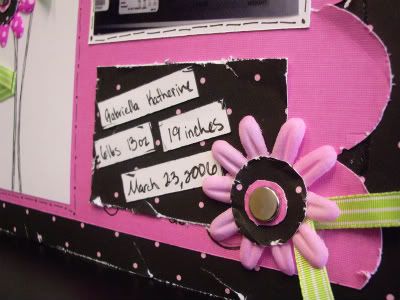 I did a lot of doodling on this LO also. I doodled the flower stems and framed up the picture too. And of course the journaling. It reads "You were so very very beautfil, even from day number one." Its supposed to look like a heart.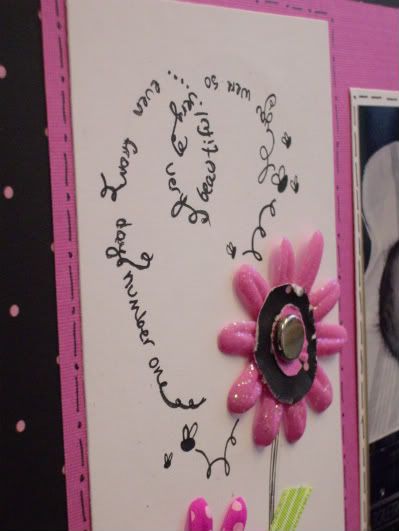 Product Info:
PP - DCWV All Dressed Up stack
CS - DCWV Summer CS stack
Ribbon - American Crafts
Brads - from J's
Pen - Zig
TFL!