I made these last night for a Mother's Day swap on the message board I visit. Each person is assigned a partner and you can alter them something and send them a small amount of scrap goodies or if you don't want to alter anything, you can just send a bunch of goodies. Well, I kinda did both! I love altered/embellished stuff but this time, I wanted to do something different. As cute as they are, a girl can only have so many paint cans or picture frames. So I decided to alter some flip flops. I've never done it before but a while back (like last summer), when I was at J's I saw a bottle of Flip Flip Glue near the check out stand (on sale $1.99) and thought "why the hell not!" Mainly, I bought it so I could alter some flip flops for myself, because the weather is warmer and I live for flip flops! But, I never got around to it and the glue ended up burried in the back of a drawer of crap.
My partner is pregnant though and lately has been complaining a lot about her swollen feet and how her feet don't fit in her tennis shoes very well anymore. She only has a few weeks left so I thought this would be a nice thing for her. I really hope they hold up. Like I said, this is the first time I have used this glue and I would hate for them to fall apart on her!
So anyway... what you really came to see... the pictures!!!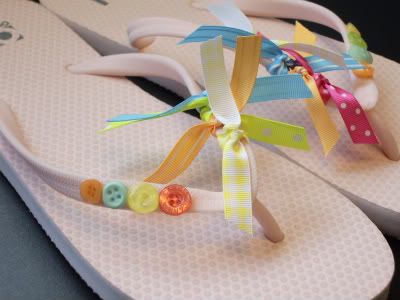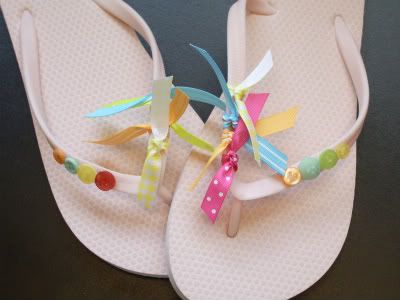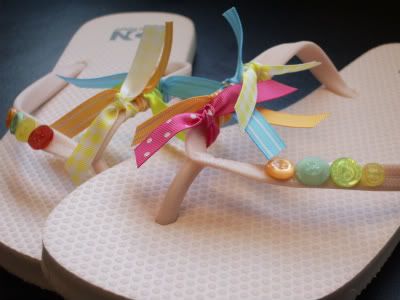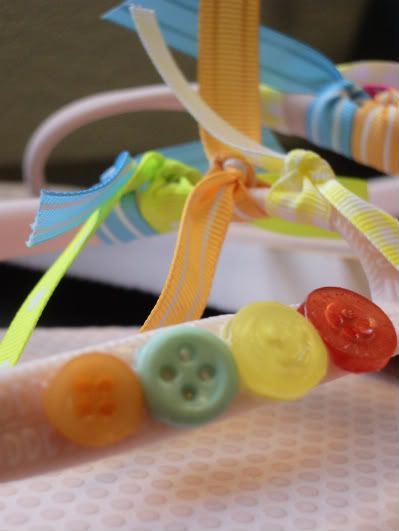 The ribbon came from Target and the buttons are from my stash. No idea where I got them or when. These shoes remind me of spring or rainbow sherbert and daquari ice mixed together, or maybe a sunset smoothie from Cold Stone Creamery. Yummy! I also sent her some pretty nail polish b/c you can't wear sandals without having pretty sparkling toes!!! She probably can't paint them herself, so hopefully her hubby will be a sport and give her a hand!
These were really easy to make and I love the way they turned out. She's lucky she wears a different size then I do b/c I really wanted to keep them for myself. So, I think I see a trip to Old Navy in the future to get a(nother) new pair to fix up! I should probably just use one of the 100's of pairs that I already own but... NAH! Besides, I only have a few pairs of the *new* style of ON flip flops. They changed them this year and they are much more comfy than before. Not that I minded the old ones they had, but these are definately better!
Hope all the mommy's out there have a great Mother's Day!