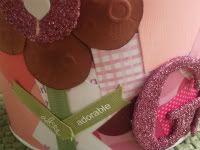 This is one of the projects I did for the baby shower. I made two of them. One with Ashlyn's (the new baby) initials and then, because I liked them so much, I put Goose's initials on the other. Since I gave the one with the baby's initials to Erin, I only have Goose's, so thats the one that is pictured.
If you look back at my last post with the baby shower pics, you can see that I used the buckets as part of the decorations. I had one filled with pink Hershey's kisses and the other filled with buttercreme mints in pink wrappers that said "baby girl" on them. Erin loved it and said it will go in the nursery, which is going to be done in all pink and brown. I also made a banner with Ashlyn's initials (AMP) that will go in the nursery too, but I forgot to take pics of that.
When I gave Goose her bucket, after the shower, her eyes just lit up. She was so excited about it! She is becoming quite the girly girl these days, so in love with "sparklys" it makes her momma proud! As she examining the bucket, she saw the heart at the center of the flower and said "That's a heart. You love me mommy?" That little girl just melts my heart!!!
Anyway, here are the pics!
TFL!!!
Product Info:
Flower - Prima Obsession
Ribbon (with text) - Heidi Swapp
Glitter Chipboard - K&Co Twinkle Type
Pattered Paper - from stash
Ribbon - American Crafts, from stash
Fiber - from stash
Modge Podge
Bucket - dollar store
Love,
Kelsy