Not really in the mood for a super long post, but I do want to get some pictures up for you all to see. Here are the pictures from Erin's baby shower this weekend. It all turned out so cute and she loved it. Unfortunately, all I really got pictures of was the decorations. I was so busy the whole time that I didn't get to stop and take pictures.
The Cake Table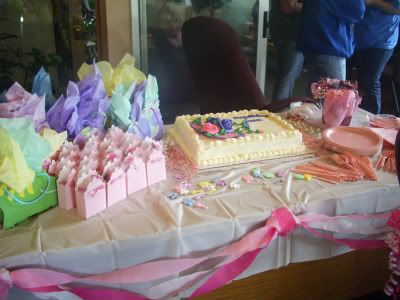 Prize bags and Favor Boxes
Inside the favor boxes was a handful of Jelly Belly's wrapped in pink tulle. The jelly beans were all pink and brown. I got them in the bulk section at Top Foods (or Haagen for some of you folks). The tulle was tied off with pink and brown yarn.
The Cake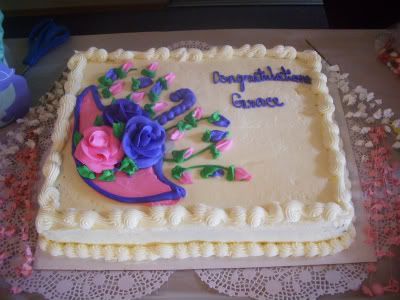 The Guest Book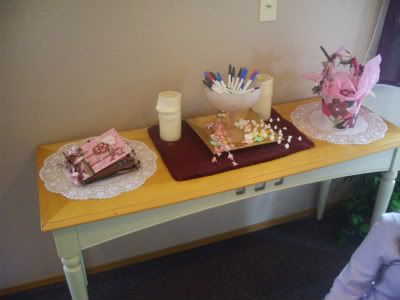 There will be more pics of the guest book to come in a future post!
And my favorite decoration...
The Punch Bowl!!!!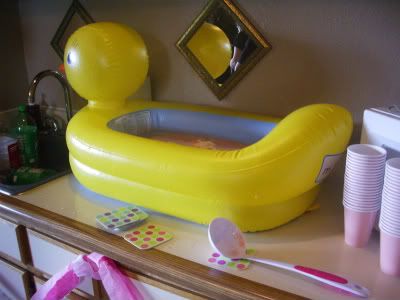 This was my favorite thing about the baby shower and according to some of the guests, it was theirs as well. I don't have a punch bowl. I also don't do a lot of entertaining so its a non issue, well, until the shower. I didn't have one, Erin didn't have one so I had to come up with something quick. Then I remembered this idea from the last shower I attended. One of the ladies there was talking about a shower she had been to in the past where they had used a baby bathtub as the punch bowl. So there it was, filed away in the depths of my brain, waiting for just this occasion. Isn't it cute?
And the Momma all of this fuss was about!
That's Erin, she's due July 21st, but if you ask her Dr. she probably isn't going to make it that long. She told me I did too much and I did. I really went all out. To be honest though, I don't have any other girl friends, she is really my closest friend. And I guess, it feels good to have someone to pamper. I guess I just wanted her to know how much her friendship means to me.
Erin is practically Steve's sister. Their dads grew up together, helped grow the family business, been totally involved in each others lives since they were kids. I remember the first time I ever called Steve on the phone, Erin was at his house (and in his bedroom!). I had no idea who she was and was totally heartbroken that the boy I was crushing on had a girl in his bedroom!! Oh how wrong I was about them!
Erin and I weren't always friends, especially in high school. But after graduation we lived together (with Steven and about 5-ish other people... we were 19 and it was a total party house! Oly Stubbies 4-EVR!) and we have been friends ever since. It hasn't always been sunshine and roses, but it is what it is.
Wow, didn't really intend to go into all that right now, but there you all go! Now, time to go post pics of the goodies I made for her!
Love,
Kelsy