This week was a name challenge. We had to take our name and use one product for each letter of our name. And that's not just one type of product, it was ONE piece of a certain product. We could use brand names, product type, basically, anything we wanted as long as it was part of our name. Oh yeah, and did I mention it has to be monotone too? No? Well, it has to be monotone too.
WTF! I have to admit, it took me by surprise and I was really pissed to have such a short name! 5 letters = 5 things on my LO. It took quite a while to actually wrap my brain around the whole mess.
So last night, I was scrapping in the kitchen, working on some stuff for Erin's baby shower (the Guest Book, it looks awesome! And I'll post pics of it, but not until after I give it to her. I don't think she checks/know about my blog, but just in case, I want it to be a surprise. Anyway.........) and all of a sudden, a light bulb went off in my brain. Everything I used on this LO was already right in front of my face. Once it dawned on me, it only took me about 5 min. to put this LO together.
My items were:
K - K&Co Glitter chipboard "G"
E - edge journaling paper
L - lace
S - stick pin
Y - yarn
And the LO!
Here are some detail pics.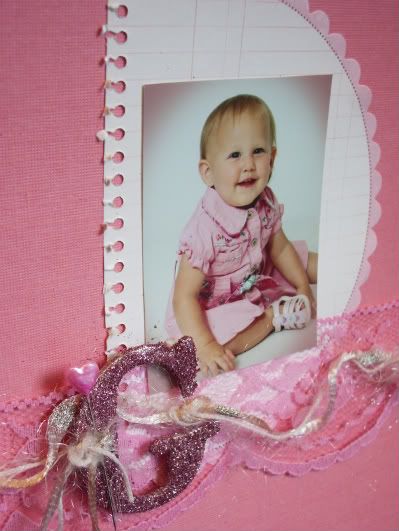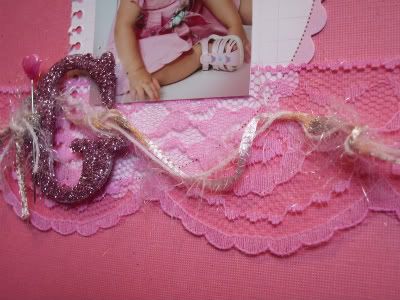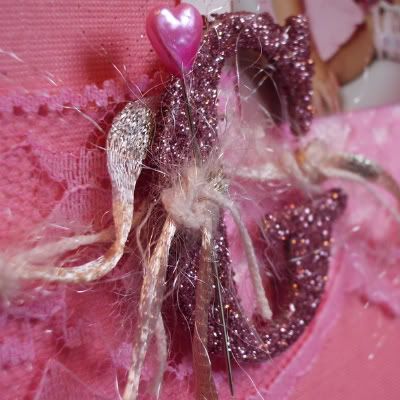 3 people get eliminated this week. I really hope I'm not one of them. This challenge is a BLAST. I never would have done a LO like this if not for this challenge!
TFL!