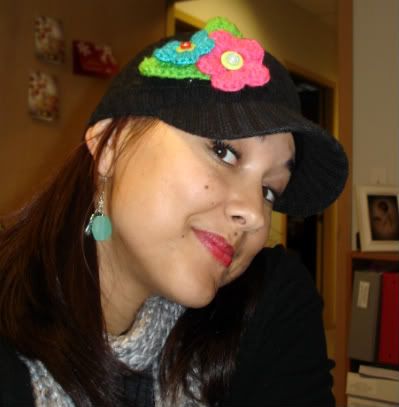 This isn't really a fancy hat, just a plain black knit cap. But it sure looks fancy with that flower pin on it, huh?
I bought a bunch of crocheted flowers and leaves from a seller on
Etsy
ages ago, and I apologize for not being able to remember/figure out who you are, but I finally did something with them. They were a little larger than I thought they would be so I didn't know what to do with them.
I decided to make a pin, actually for Goose, to put on a cheap knit hat I picked up for her. It was just plain and I wanted it to be fancy so I made this. I stitched the flowers to a piece of felt, right now it just held on my a safety pin, still need to sew the pin part on.
Well, I liked it too much to give to Goose. And I am justifying keeping it for myself because it ended up being too big for a child's hat. I have to make her one with just one flower and leaf. I'll post a pic once I get around to
that
, but don't hold your breath, it might be a while!