For someone who can't sew (or doesn't for lack of a sewing machine) I think I did a damn good job on her costume. I had to make one. Goose isn't what you would call a "girly girl". Sure she plays with dolls, but she would much rather splash in mud puddles, and for that matter, so would I. Must be where she gets it.
Anyway, when setting out to find her a costume, I decided I didn't want her to be a princess or a fairy or some other slutty excuse for a little girls costume (I'm sorry, but what the hell is
THAT
about???) Anyway, she needed something though, something powerful... something worthy of fighting crime. BUT knowing that girls can't BE superheros (at least according to whoever does marketing for what little girls get to be) I knew I had to make one. It was pretty cheap to throw together. Maybe spend $15 on supplies I didn't already have, namely fabric and the single greatest invention known to man kind...
Fabritac
.
Seriously, the greatest invention ever. As I've said, I don't sew, so in order to have the gold trim all the way around the cape, I had to glue it. With a little glue and some pins to hold it in place, I had this baby done in a little more than an hour. The "G" decal was designed my the Hubs, he has quite the talent for graff art (Graffiti for those of you who aren't hoodlums and care about that sort of thing. I used this flimsy gold lame for the G ($$ fabric bin at WM) so it was hard to adhear, but that's what the gold ric rac is for right? Covering our mistakes? LOL.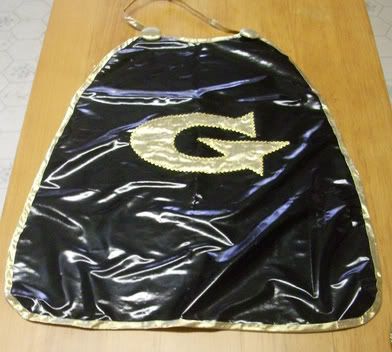 The mask started out as plain black (do you have any idea how hard a plain mask was to find?) but I spray painted it gold and covered it with Stickles (glitter glue) and called it a day.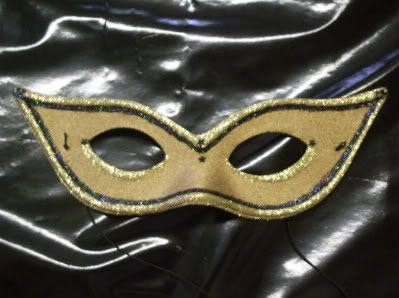 Some close ups of both...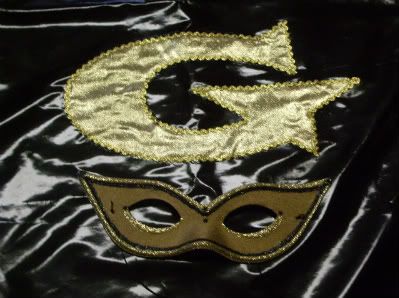 And of course the little Super Goose all the fuss was about in the first place. She was so excited to be a superhero.
With the cape... no mask. And check out the gold boots! Good will rubber boots, also spraypained. The paint started to chip, but hey, they made it through the night AND they are just boots so who the F cares!
Mask... no cape this time.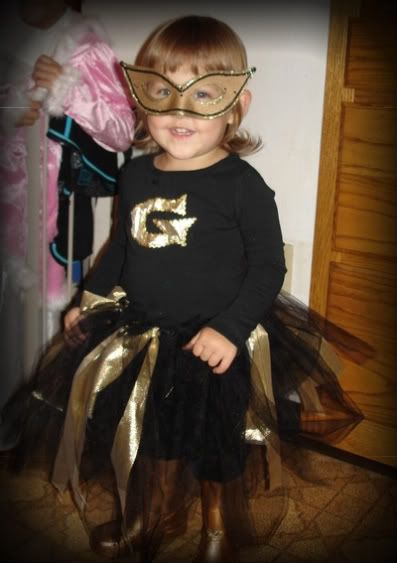 And all three squirrels. I have no idea why I call them that. Sometimes I call my sisters the Gruesome Twosome. Really though, don't let the sweet faces fool you, they are EVIL. Harley was a DEVIL princess and Emily was a FAIRY princess, not that they were much in the way of costumes... I kid I kid. I also did their make up, don't they all look so pretty? Can't wait to scrap these!
Thanks for looking!