I haven't scrapped in
4-EV-R
! LOL! I just haven't really had any crafty mojo since Christmas. Gift making really zaps it out of me. That, and I have been on a jewelry kick and getting my
Etsy store
off the ground has been more work than I had anticipated.
This LO is for the DT at the
Squeaky Page
. It had me super stumped, two pages of vellum. I never use vellum. Ever. One piece was green and the other was white/confetti. I originally printed a 5x7 pic on the white vellum but it was too small so I printed an 8x10 on the green.
This LO is really
GREEN
to me. The top doesn't feel balanced to me. But Hubs really liked this one, said that the pic printed on green looked cool and he originally thought it was part of the paper. Even though he "
doesn't like glitter
" it has his man seal of approval.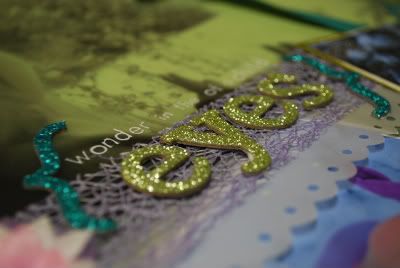 I do like the rub-on swirls, even if I suck at applying them and if you look closely you can tell they are f-ed up. I guess I just try to be perfect, although I must say that I succeed at LEAST 89% of the time.