Gotta love Federal holidays! My favorite part about it, a I think... besides getting a "
free
" work day, is that I now only have to work 4 days next week.
Anyway, Hubs and I messed around w/ our taxes this morning. Not getting as much back as I'd hoped but at least we don't owe,
so silver lining,

right
?
So Hubs, Goose and I decided to dump responsibility today and go to the park. It was a beautiful day, it might have even gotten into the 50's, I don't know, but in the sun it was pretty nice (shade... not so much...
Brrr!
) We played for hours. I hurt myself, and Goose cried over something.
There is something you should know about me...
I am a klutz
. Really, it's bad. Hubs often wonders how I am still alive. Sometimes when he watches me change and sees bruises on my hips, or knees, or calves, maybe my arms. I never know how I get them. At least once a day, you will here me yell out "
ouch
" or really more likely "
f*ck!
". Hubs will will yell, "
are you okay?
" and then I groan back "
yeah....
"
I am a comedy of errors
. And its not just at home, no... I'm just as bad in the office. Tripping over boxes, dropping files, slamming my fingers in drawers and other things of the like.
Anyway. in the picture above, I am sitting on the bench, with my shoe off. I had tried to do, what in my head was gonna be a pretty awesome flip where I jumped up on the bench then, jumping off the back doing this flip and landing on the group. I was set up to fail from the beginning. As I said, I'm klutzy... if I can hurt myself I probably will!. So as I attempt my stunt (maybe its all the hype MTV has on Nitro Circus) my left foot slips on the slightly wet bench and my right foot slammed into in bottom of the bench. OUCH!
So I was nursing my hurt foot (Hubs called me a
tool
... it hurt... but
he was right
, so I didn't argue although I did ask him to repeat himself) and Goose was unhappy about something. I don't remember what, But right after this another little girl her same age, literally they were two days apart, came and they entertained each other.
Goose played hard, and then we came home, ate some lunch and she actually wanted to nap! Then I asked (told) Hubs that I wanted some time to scrap and he told me to go ahead. The laundry is done... well, clean, not folded, I know I probably should have done that instead but I decided I'd rather scrap. I've just had this creative itch lately!

A pic of Goose from Harley-Beast's birthday party.
I believe this is a Pencil Lines sketch.

Chillin' like a villain... That's Hot!
This is Jodie's newest sketch, #90.

The little owl ticket was made by my friend Misty.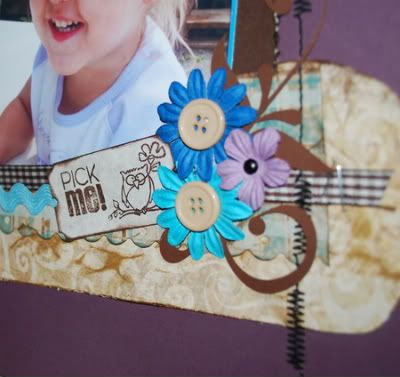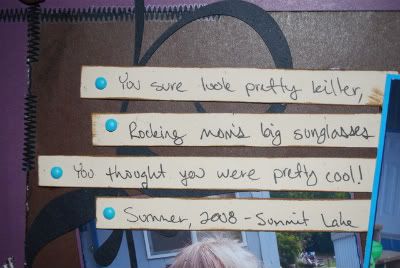 So tonight the plan is to get Goose to bed as soon as possible (hopefully before 9, we usually start "bed-time": around 8), the watch House and 24 and fold some laundry while I watch. Fun, fun. The most exciting part though... is when 24 is over and I'm going to go to bed.
Mmmmm......bed....... sounds yummy
 ;-)