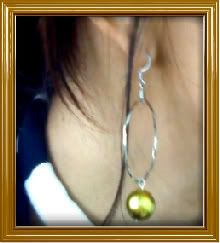 Sorry for the crappy cell phone pic!
So... turns out last night I was
too tired
to scrap. In fact, I fell asleep on the couch in the middle of The Office. Now you
know
that's tired. I did make some earrings though, during our "family time." Ya know, that time after dinner but before bed where the kid(s) is/are extra hyper and you are so beat all its all you can do not to put them to bed early? Yeah, during that time.
I made a bunch of earrings with glass pearls and they all turned out so pretty. I have to be careful when I make stuff for the shoppe, because so often I want to keep it myself. And because of this, I end up making
two pairs
of my favorites. All of the pearls are in beautiful, chipper, spring-y colors and hanging from silver hoops. All different colors and sizes, a wonderful menagerie!
I don't know if you noticed, but I don't use precious metals or semi-precious beads in my work. I like to use glass beads (which can be bought in
BEAUTIFUL
mixes from
Shipwreck
) and glass pearls and stainless silver findings. Not that I'm trying to make cheap stuff b/c while my prices are pretty low, the workmanship is definitely not.
I believe that all women should be able to afford fashionable and fun accessories without breaking the bank, especially in though economic times such as these. When I first got pregnant, I made a promise to myself that I wouldn't "let myself go," ya know...become a "mom." Fashion and accessories have always been important to me. I promised myself I wouldn't stop wearing big fabulous earrings. (
And I haven't, even when Goose went through her pulling stage, which thankfully didn't last very long.)
Just 'cuz I
popped out a kid
doesn't mean I have to change everything about myself. I still want to look good!
Sure you have to adapt your life, but having a kid doesn't mean you have to completely neglect yourself. I wear make-up everyday, I like big earrings, fun accessories, cute shoes, and pretty much anything the celebrities are wearing. Goose hasn't changed any of that. In fact, she's made it better b/c now I get to "
style
" her as well. I will be heartbroken when I don't get to pick out her clothes anymore. My hope is she will just grow up to be a mini-me and we can share clothes and earrings and secrets and Hubs can be the mean parent. Which I highly doubt, Hubs gives Goose whatever she wants and I end up being the bad guy.
Always.
Anyway, there is my post about nothing important, unless you consider earrings important (
which I do!)
That said, please check out my
ETSY STORE
this weekend and buy some earrings to perk you up. The weather has been pretty nasty (
everywhere but here...)
and I know some pretty jewelry will be the perfect pick me up!