It's hard not to be artistically inspired when you are surrounded by such BEAUTIFUL sights. The North Coast of Washington, the Pacific Coast really, is one of the most amazing places in the world. Ft. Flagler is an old military base just East of Pt. Townsend, for those familiar with the area. I drove Hwy 101 to get there and it really is stunning!
During the course of our weekend, it rained, hailed, snowed and was blue skied. I wanted to get a picture if the white capped waves when the wind was especially bad Saturday morning, but I wasn't about to make the trek to the beach in the rain. And trust me, its quite the trek!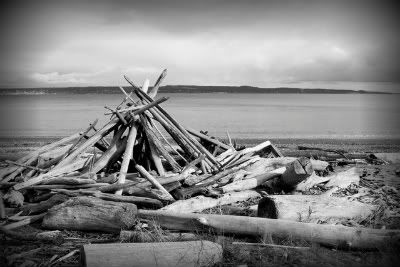 I'm missing alot of the scenery pictures I took, I must have not uploaded them. So I may be adding to this post later tonight.