The winner of my blog candy will be announced at the end of this post.
First, I'd like to share with you the list of books that everyone came up with, like I said before, there were so many good ones.
I couldn't make an objective decision so I printed out all your comments, cut and folded them up, put them in a box, shook the dickens out of it and pulled out a winner.
But first... the books (and who submitted them)!
The Sawyer Family - The Important Book

Bonnie - The Hungry Caterpillar

Toccara - Big Sister, Little Sister by Marci Curtis

Roxybonds - Love You Forever

Julia - The Giving Tree by Shel Silverstein

~Erica~ - The Kissing Hand by Audrey Penn

Lori - Goodnight, Sweet Butterflies

ValleyScrapper1 - Your Kind of Mommy by Marjorie Blain Parker

Crystal - Daddy's Girl

Devon - Chicka Chicka Boom Boom

Heather - Goodnight, Moon

Melanie - Oh What a Busy Day by Gyo Fujikawa

Kristine - Little Orphan Annie

Lacey - Love You Forever by Robert Munsch
...and the winner of the fabulous blog candy (who I am happy to say is a NEW follower!!!) is...
Nancy Mendelson - The Lion, The Witch, and the Wardrobe, by CS Lewis.
Nancy, please email me (see address on my sidebar) with your info and I will get your kit in the mail ASAP!
And since I couldn't resist playing along... I thought I would tell you a little about MY favorite children's book. It's called "Owly" by Mike Thaler and is long out of print. It was my book when I was a baby and it has survied four other children and made it to Goose (with some mending, of course). Several years ago (when the book was still being enjoyed by my little sisters and before Goose was born) I found a paperback copy of the book for Hubs... he was still "boyfriend" at the time.
It's the sweet little story about Owly and his mother and the lessons she teaches him about life. Lessons, she allows him to learn by exploring the world on his own. Lessons like how high the sky is and how many waves are in the ocean.



And my favorite line... this is the last page of the book, after Owly's mother tells him that she has more hugs for him "than there are stars in the sky or waves in the ocean."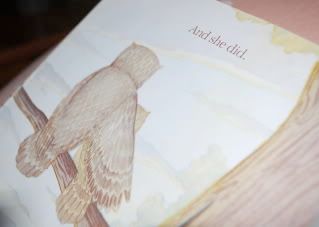 I love reading it to Goose, having fond memories of my own mother reading it to me and then having the chance to read it to my sisters when they were babies. Hopefully, we'll be able to hand it down to the next generation.

Thank you so much to everyone who played along and a DOUBLE thanks to those of you who signed up to follow @GetBenderNow on Twitter.
And OF COURSE, thank you to everyone who reads my blog everyday. You ad some validation to my life that *maybe* I actually CAN still be interesting AND a mom. Sometimes... I forget that!