I

just realized that I never posted the results to the Rise to the Challenge contest my board was having.
I'll post about
Week 4 first,
which was by far the hardest challenge of them all, at least from my perspective. Our LO's had to be monocromatic (blech) AND symmetrical (double blech), so far out of my box, I couldn't see the box any more. A fish out of water, that's how I felt with this LO.
The RULES:
Symmetry & Monochromatic
Make a symmetrical LO that is also monochromatic. (monochromatic means only 1 color, no black, no white etc.... ) Your photo is the only thing that can have color other then the color of choice in your monochromatic.
Your LO must include the following:
Technique - Stamping (Be creative!!)
Elements - Brads & Ribbon must be used
Judging Criteria:
Overall LO Creativity (1-10)
Symmetry (1-10)
Monochromatic (1-10)
Use of Technique - Stamping (1-10)
Use of Required Elements - Brads & Ribbons (1-10)
This was certainly not my favorite LO. It was challenging, but I just don't like the way it turned out. Things just didn't work out the way they planned and I think my lack of enthusiasum for this challenge showed through in my work.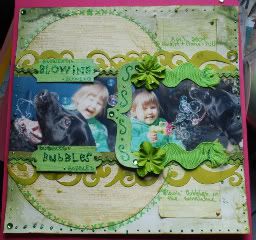 Here are the judges comments:
Kelsy 32
I like all the curves you used, it makes the symmetry more interesting. You missed a few points for the copper brad, and there could have been more stamping, but overall, a cute LO!
I like how creative you were with all of the elements. I don't think that the shades of green worked very well together, though, olive and a more primary green. I think that different intensities of the more primary green would have been more in keeping with Gooses's shirt (which is what I think you were playing off of in choosing the green?)
Sorry it was such a troublesome LO! Love the swirly things you used. Very cute.
Such a cute LO and I'm still laughing at the pic of the dog eating the bubbles. Very nice job! I deducted points on the stamping since it didn't work out and for the lack of brads.

Week 5's challenge
wasn't any easier, but as soon as I saw what it was, I knew what I was gonna do.
More than just a pretty picture.
In this weeks challenge you may NOT use a photo anywhere on your LO.
You must include something other then a photo for your theme.
Other requirements for this week are:
Your LO must have Embossing on it (dry or wet)
You may only use 20 items on your LO. Every item counts as 1!!
Here is the 5 categories the Judges used to rate your score:
Overall LO Creativity 1-10
Use of the technique (Embossing) 1-10
Following the 20 items only requirement 1-10
No photo creativity/item use 1-10
Page Coordination 1-10
NOTE: Things that are 'free' -ink, paint,embossing powder, journalling pen or printer ink. The paper they are on is not free, just the ink itself. Also techniques like distressing are free.
I know, I don't really talk too much about personal stuff on here, but Hubs and I have hit somewhat of a rough patch and we are working through it. This LO was done with him in mind. I handwrote the lyrics to Pink's "Please (Don't Leave Me)" on some very distressed PP.
Here is what I used: lots and lots on ink/embossing powder - I even used pink ink *on my lips* to make some lip prints, 1cs, 1pp, 1 flower, 2 foam hearts, 1 fiber, 8 ribbons, 6 cb letters I wanted it to look like something torn out of a teen's journal, angsty and in love. And for once, the ideain my head turned out on my LO. I am so proud of this creation!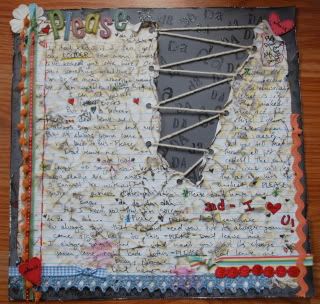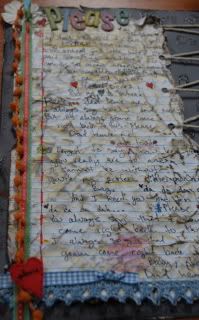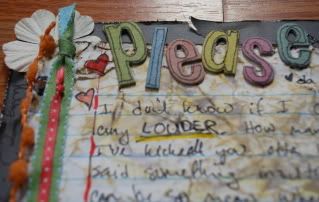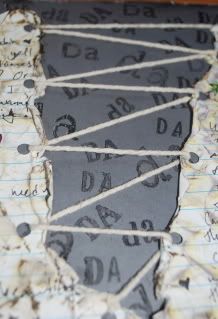 Not many comments from the judges this week:
Kelsy 47
Personally, not my taste at all, but the creativity and artistry gave you great scores from me
This is very cool I LOVE the embossing (da da da) visible behind the torn pp and the lacing. You definitely achieved the look you were going for. So creative!
Verycool idea for a lo!

But I did get the high score for the week. Hoorah! And ended up 6th over-all in the contest. Not too shabby, considering how great the competition was. And there was only 10 points that separated the 1st place person from me, so I'm quite proud.
TFL!!