Make a Taco Roll
Ingredients
1-1.5lbs ground beef
2+ cups of shredded cheddar cheese
1pkg Taco Seasoning
2pkg pre-made jumbo crossaint rolls
Sour Cream + Taco Fixin's
This is a recipe from the Pampered Chef. Well, sort of, I ate it once at a PC party and it is SUPER easy so I was able to just remember the ingredients and how to make it. None of my meaurements are exact though!
1) Brown Beef and drain. Add taco seasoning packet. Do not add as per directions on the pkg. Stir in about 2 cups (or three-ish large handfuls) of cheese.
2) While your beef is cooking, you can set up your roll. First you open the crossaints and separtate them, laying them on a large cookie sheet so they look like a big sun.
3) Fill the fat part of the "sun" with your taco meat mixture and roll over the "rays" so you have a ring or meat and dough. Press together to get a more uniform circular shape. It should look like this: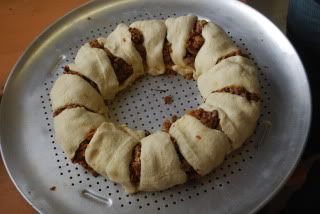 4) Bake according to the directions on the crossaint pkg. Usually its 350 for 20-25 min, until golden brown. I usually sprinkle some extra cheese on top while its baking.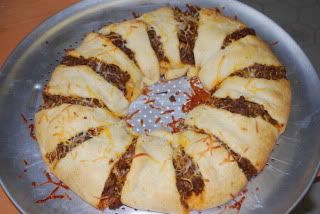 5) Cut up each section and serve like a pie with whatever your desired taco fixings. Hubs likes onions, I like lots of cheese and tomatoes. We would have had lettuce but it went bad before I got a chance to make this.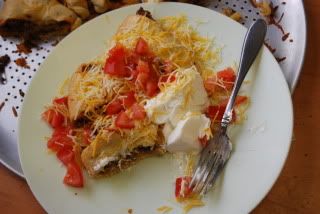 Very, very simple and quick too! It's Hub's favorite and one of the only things I actually cook.
Enjoy!