Today is a cheat.
Nearly everything I have on is new, save for the brooch in my hair. Oh, and my unds. But, with all the weight I lost, not many of my pants fit and Hubs has lost some weight recently as well. So, we decided to take advantage of Old Navy's $19 jean sale and each got a couple new pair. Hubs needed new pants badly... me,
notsomuch.

This is my
normal
uniform. Jeans, t-shirt, heels and jewlery.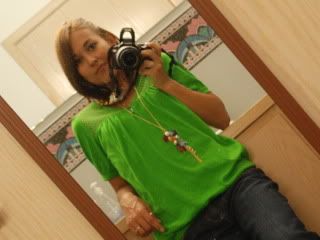 I picked out a nice comfy, roomy boot cut jean... they need to be washed so they shrink up, but I DO love a dark wash jean. Very slimming!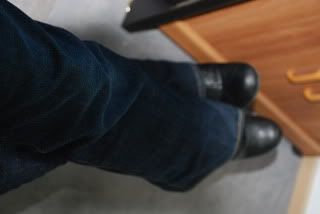 And of course the baubles! Again, you always HAVE to have that pop of color, especially when working with neutrals or solids.
A vintage brooch (that you may remember seeing before, its from Fun Junk) that I pinned in my hair.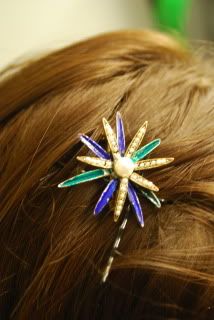 So there ya go, I'd say I'm off to a pretty good start. Two days in a row and all. And I really like talking about my clothes. This is kinda fun, I think I might just have to keep it up!