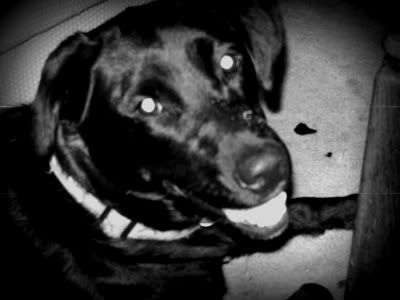 Molly
December 29, 2001 to December 16, 2009
My beloved furbaby passed away yesterday at about 2 in the morning. She was my first baby. I've had her ever since I moved out after I graduated. Her mother is my mom's dog and I remember picking her out of the litter as my own the first time I ever saw her.
She was sleek black and the only one with white markings on her chest and toes.
Molly loved to chase balls. Not just balls, but anything round, or throw-able. Sticks, soda bottles, rope... bubbles, (God, the bubbles. I hope there are bubbles in doggie heaven). Balloons and "the light" made her batty. Before Goose was born, she was SO spoiled. She loved to get dressed up and wear her pretties (scarves/handkerchiefs).
This dog wanted nothing more than to play. She would run and run until she was panting and her legs would shake. Molly loved water and going to the beach to chase sticks. She loved going for walks with Goose and I, although she never did great on a leash.
When she was younger, we let her sleep in bed with us. She would sleep right at my feet, curled in a ball. And when I was sick, she would lay with me as if she knew. She loved to wrestle around the bed, covered in blankets, trying to "give kisses" to me or Hubs or Goose.
Molly was so good with Goose. Never bit her, not once, though it would have been deserved the way Goose would torment her so. She put up with a lot and still loved her. The day she died, her tail wagged so hard when we came home and she just laid there as Goose smothered her with hugs and kisses.
She wasn't alone when she went. Hubs was right by her side as her breathing slowed and she peacefully passed on.
I had her and loved her for 8 years. In the past year or so, she had begun to had hip problems (common for labs) and I recently noticed cataracts growing in her eyes. I hope she wasn't in too much pain before she went and I know where she is now, she feels no pain at all.
Molly, you were my best friend.
You got me through a lot of tough times and I will miss you SO MUCH.

Love you Mo-Dizz!
Love, Mama