The Rules:
Only one sheet of new, un-cut paper.
As much scrap paper as you want.
2 swap items, can be disassembled.
Use the color green at least 3 times.
Use a non-scrapbooking item.
Only open packages.
My first swap item was the heart made by
Kelly
in the top left hand corner. I changed the color of the center heart and then brad and I also inked it. My second swap item was the journaling box by
Kat.
I changed the background CS and added the flower and ribbon. I also re-used her sun-shaped eyelet. And that, my friends, was not easy! LOL!
I love found items and love it even more when I am able to use them on my LO's. I found this adorable copper fawn at this junk shop near where I work called Fun Junk. They have the most random vintage stuff there. This little guy, and the copper heart have been in my collection for a while and I have been dying for a chance to get to use them. They probably aren't acid free or photo safe, but that has never really mattered much to me!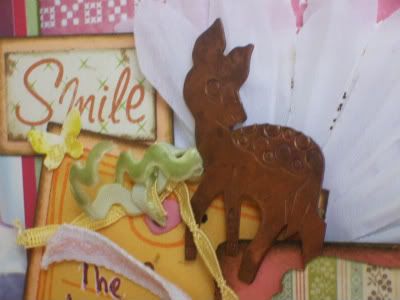 The title was done with Thickers but after I put them on, they were way too light, so I outlined them with a brown marker.
This tag is actually a Genuine Kids clothing tag off of a pair of jeans I bought for Goose the other day. It was a really nice, thick CB tag! So I covered it b/c I thought it would be a fitting thing for a "green" challenge!
Product Info:
PP and die cuts - Cosmo Cricket Honey Pie
Foam letters - American Crafts Thickers
Chipboard - K&Co