Another October brings another trip to the pumpkin patch. Oh how I love the pumpkin patch, especially when it's sunny and not raining. This is our third year visiting Hunter's so I guess that makes it a traditions. They have hay rides, a train ride, merry go round, a
GINOURMOUS
slide, over priced-under cooked food, a petting zoo... everything a kid would LOVE, and of course Goose was no different.
Her favorite parts were the llamas and goats. They had grain you could buy and the goats would happily slurp them, tounges snaking around your fingers, not missing a drop.
Also, the slide. The slide which you had to be 3 or older to go down alone. Miss Goose was not happy about that, especially when I told her she was too little. "I AM NOT LITTLE, I am BIG" she exclaimed to me. So we snuck up the slide together and I would go down first, so I could catch her (she insisted) and she would go down next. But honestly, I don't think the attendant would have cared, she was a teen aged girl with head phones on (safety first of course), and she wasn't even taking tickets for the ride.
The Train Ride. She loved it but Momma was a little worried b/c she was all alone and I couldn't see the entire route she rode on. She survived though.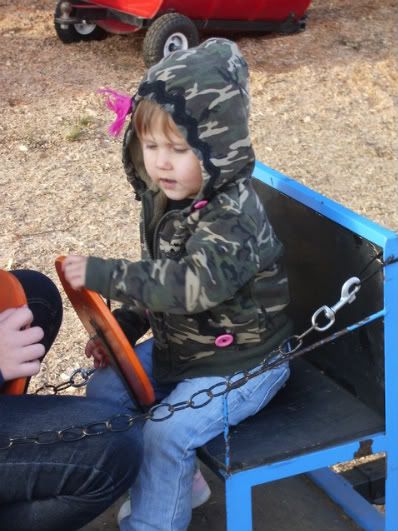 She was terrified to go on the Merry Go Round alone so I had to go with you. Let me tell you, that thing is 100+ years old and not meant to hold anyone over 50lbs. I was scared. This thing was so old it didn't even have a motor, just some guy pushing pedals like on a bike! Very cute and nostalgic and vintagy though!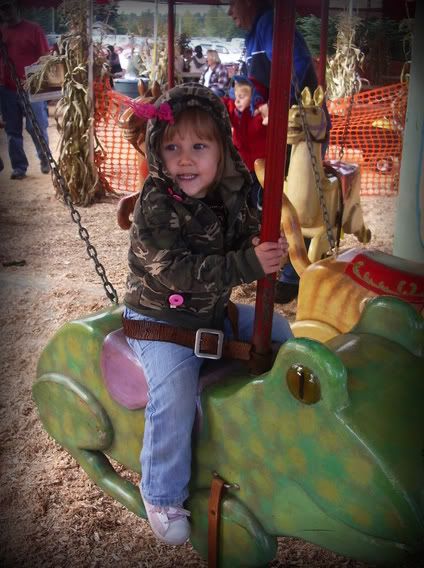 Goats and Llamas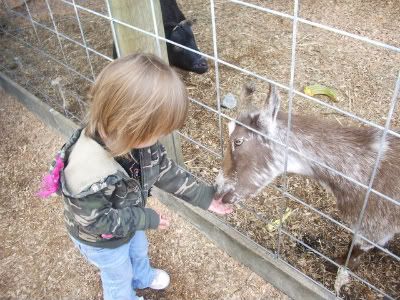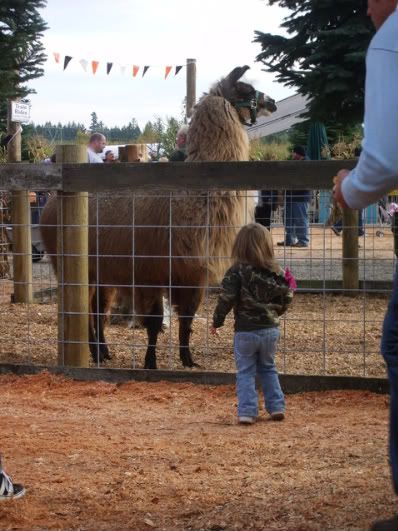 The
BIG
slide
On the trackor ride to the patch. Goose was so scared when they dropped us off. She burst into tears and started yelling "COME BACK!" Poor thing thought they were leaving us for good!
Thinking they left her. SO SAD!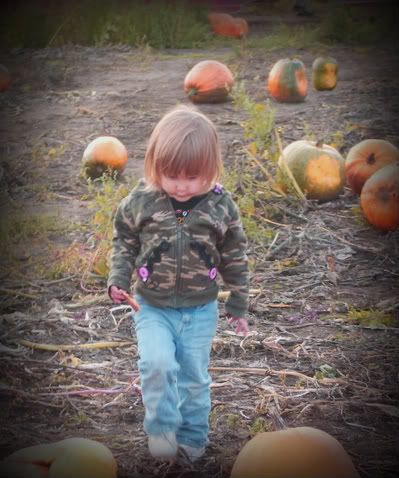 My camera doesn't do too well in low light, but with a little photobucket editing (LOVE it,
SERIOUSLY!
)I was able to make thse two somewhen presentable. My trick is adding a vignette, it makes almost any picture look better. Ha ha ha!
TFL!