I love carving pumpkins. I don't have the patience for it though. In the beginning I feel ambitious and set out to carve something fancy-schmancy but it never really works out that way. I just carve in some simple goofy grin.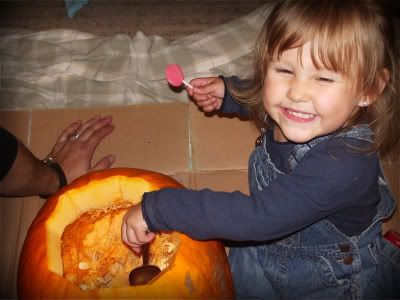 Goose didn't really know what to think. She was more interested in her sucker. Hubs and I were able to get her to dig in after we'd done it though. She was a champ at picking out the seeds for roasting. Yummy! No pics of seed roasting, but I assure you, they were delicious. Recipe was courtesy of
Martha
.
In a brief moment of clarity and general okay-ness, Goose and I decorated our front porch a bit. We don't live in a neighborhood and got NO trick-or-treaters, but I so love to decorate for Halloween and I wish I had been feeling better (ie anxiety/panic) so that I could have. Shit, the day before Halloween I dropped $50 at the grocery store to make miniature caramel apples and I was too sick to make them. BUT my mom did make them for me and took them to my sisters' Halloween party and they were a hit, so at least they didn't go to waste. I was even going to dress up like Amy Winehouse and it was gonna be the SHIT!
Anyway, sorry for the tangent. Back to the minuscule decorating I did.
I got the idea for the pumpkins with noses from
Martha
again. They were so cute and I had planned to do more (thus the uncarved pumpkins.) My favorite part was the way the noses wilted by the time Halloween came. Reminds me of several very dirty jokes which I will not share here. He he he.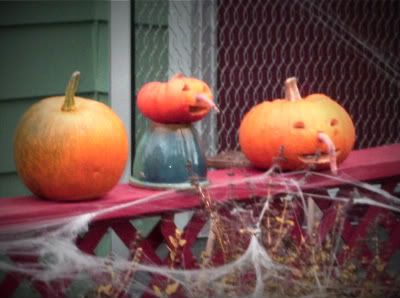 Cute though right? Next year I vow to have an entire army of carrot-nosed pumpkins!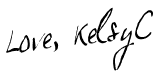 Oh... and just in case there was any doubt in your minds....