This is the first time I have ever done a craft like this.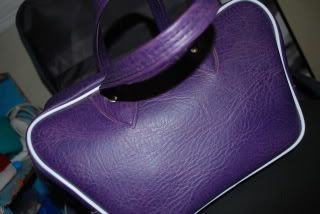 I have this fabulous vintage bag that I got a while ago (for $4 from Fun Junk, my favorite-est place EVR) but I've always thought it needed a little sass. So I turned to my trusty internetz friend Google and searched "painting leather" and came up with several great links.
I especially like
this one.
This one
is pretty good too.
There is some useful information in
this link
as well.
1. Decide on the image you want to paint. I wanted to use a silhoutte of Goose. Let me tell you, getting her to sit still for the pic was probably the hardest part! I printed out the image and cut it out.
2. I didn't have any leather cleaner at my disposal but in one of the many links I visited yesterday I recall one saying you could use acetone (the main ingredient in fingernail polish remover). Since all I had was nail polish remover, thats what I used. I put some onto a cotton pad and lightly cleaned my work area.
3. Place your image and trace it onto the bag. (If I could have found my clear contact paper, I would have cut a stencil, I think the painting would have been easier that way.) I outlined my image in a white paint pen.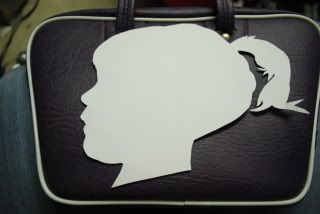 4. Gently scuff up the area you wish to paint with a fine grain sandpaper. This will help the paint stick.
5. Apply a thin base coat. I found a multi-purpose sealer made by Deco Art and a white water-based acryilic paint for porus surfaces made by Folk Art. I mixed equal parts of paint and sealer and made a base coat. This sealer is specific for adding "maximum adhesion" to acryilic paint when mixed and is a sealer when used by itself.
6. Apply 2-3 coats of the paint/sealer mixture depending on your desired coverage.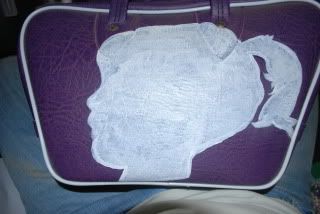 7. Apply one coat of sealer only.
8. Embellish (and let paint dry overnight)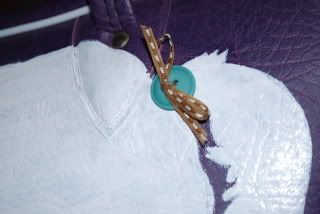 9. Enjoy!
Since this is the first time I have ever done this, I'll keep you updated on how the bag holds up. I can tell you that I have done some "product testing" myself, including a scratch test and water test, and it seems to be hunky dory!
TFL!